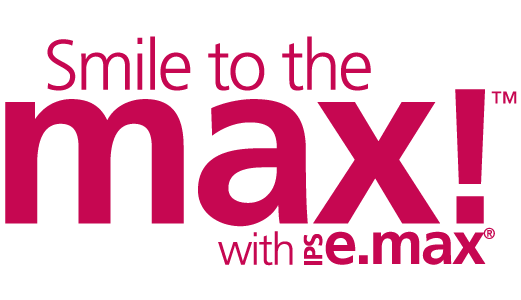 What is IPS e.max?
e.max represents a major breakthrough in restorative and cosmetic dentistry. One reason behind this is a combination of its high esthetics and superior strength. The all-ceramic dental crowns and restorations made from e.max are natural-looking and contain no metal. Depending on the correction you want to make, your dentist will work with you to select the best option whether it be crowns, veneers, a bridge or implants.
Having the beautiful, healthy smile you have always wanted has never been easier.
Designed with simplicity and versatility in mind, IPS e.max is the ultimate in metal-free esthetics and durability offering high-strength materials for both the PRESS and the CAD/CAM technique.
No matter which technique you choose, all components are available from one manufacturer. If you prefer to work with the PRESS technique, two different types of ingots are available: IPS e.max Press, a high-strength glass-ceramic and IPS e.max ZirPress, an esthetic glass-ceramic which is pressed onto zirconium oxide in a fast and efficient procedure. For CAD/CAM applications, either the highly esthetic IPS e.max CAD ceramic glass blocks or the high-strength IPS e.max ZirCAD zirconium oxide can be selected, depending on the case requirements. The nano-fluorapatite layering ceramic IPS e.max Ceram completes the all-ceramic system. This material is used to veneer all IPS e.max components, no matter if they are glass-ceramic or zirconium oxide.
e.max gives you
Your ideal smile – with beautiful naturally translucent restorations that blend with your teeth.

Clinically proven, long-lasting results that are stronger than other tooth colored all-ceramic restoration

Easier, quicker and more comfortable dentistry.
IPS e.max Press are biocompatible lithium disilicate glass-ceramic ingots. They offer the fit, form and function which is expected from pressed ceramics. In addition, they offer improved flexural strength (400 MPa). With optimized esthetic properties creating all-ceramic restorations that offer true-to-nature results has never been so easy.
IPS e.max ZirPress ingots ideally combine the PRESS and CAD/CAM technique. Take advantage of the accuracy of fit as well as the strength of zirconium oxide-reinforced restorations. The fluorapatite glass-ceramic ingots are used to press onto IPS e.max ZirCAD frameworks.
IPS e.max ZirCAD frameworks are either veneered with IPS e.max Ceram or IPS e.max ZirPress is pressed onto them. The specially developed ZirLiner, zirconia liner establishes an optimum bond, no matter which technique you choose. Due to its excellent final strength, IPS e.max ZirCAD is the material of choice for indications where high strength is required, e.g. posterior bridges.
IPS E.max Ceram is the connecting element between the different components of the all-ceramic system. You now only have to use one layering ceramic, which will enable you to achieve highly esthetic results on glass-ceramics as well as zirconium oxide.